10% - 30% Discount on all our Clothing
Come by Gladamak Clothing Concept between now and September 30th and enjoy from 10% to 30% Discount on all our clothes.
Promo Conditions: 
All products are on sale from between 10% to 30% discounts
You can enjoy these discounts on every purchase between now and 30th September, 2019.
Call: 024 376 0195 and 024 463 2184 for more information. We accept Mobile money payment.
At Gladamak Clothing Concept, you are presented with high quality and affordable clothes, shoes, bags and jewelry for men and women. Our products are entirely from the United States of America and we offer brands like:
Calvin Klein
Tommy Hilfiger
Alfany
Ralph Lauren
Stafford
Dockers
Opening Hours:
Mon: 7:30 AM – 7:30 PM
Tue: 7:30 AM – 7:30 PM
Wed: 7:30 AM – 7:30 PM
Thu: 7:30 AM – 7:30 PM
Fri: 7:30 AM – 7:30 PM
Sat: 7:30 AM – 7:30 PM
We are available at all times of the day. Just call us.
No Document for this coupon
This promo isn't rated yet.
---
Coupon like this one
---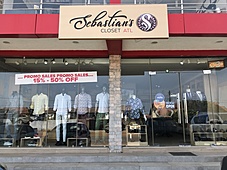 🔥🔥HOT PROMO! 🔥🔥Come by our shop anytime from now till July 31st, 2020 and enjoy 15% - 50% discount on all our products.